Classic graphite pencils starting with the all-rounder, the one that can do it all:
->

Dixon Ticonderoga 2 HB


From light sketching to dark and crisp shadows, this beauty can do it all, my all time favourite.
->

Faber-Castell 9000 6H, 3B & 7B


Offering a range from 6H to 8B you can find what works best for you here. Usually 3B and 7B are my choice for shading in darker areas, as well as buffing out any little white spots left behind in these areas with the 6H.
->

Faber-Castell Pitt Graphite Matt 14B


A new addition to the FC family, the Pitt Matts offer a dark finish with highly reduced graphite reflection. Therefore I prefer their softest and darkest for these areas of my work.
Mechanical pencils for that fine detail work.
->

Faber-Castell TK-FINE 9713 0.35 (2H)


Hair. This is the one for that. With a 2H hard lead you can achieve barely noticeable strands as well as the darker kind. The thin lead offers high precision and much love to all us detail lovers.
->

Pentel Orenz PP502 0.2 (2B)


A pencil thinner than my 0.35? I couldn't believe it and I had to get it. What a wonder! I always had to use a normal pencil for the darkest hairs and it was never precise enough for me. This beauty with a soft 2B lead solves all that. Great find. These are also available in other sizes, however for me 0.2 is sufficient.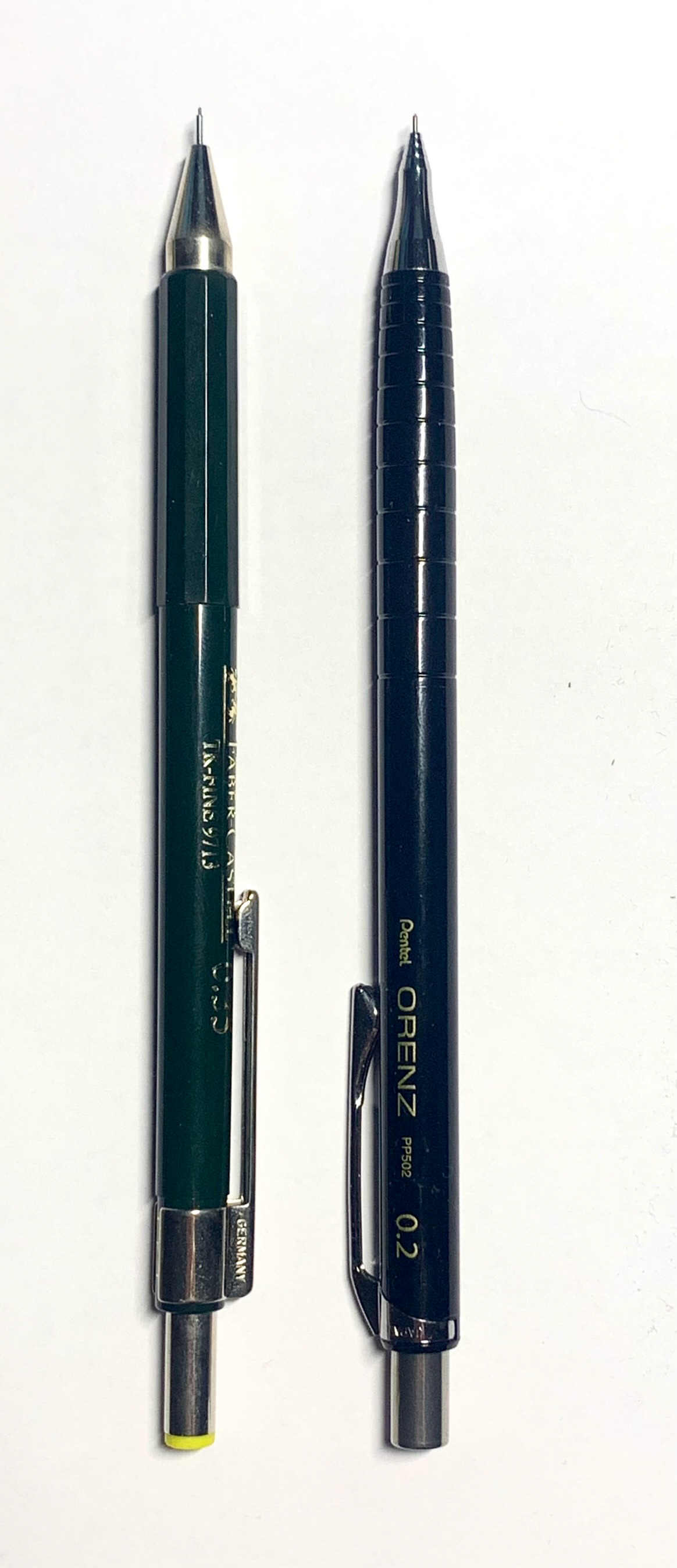 Never used to think I would enjoy colours, but I say, these wonderful pastel pencils have won over my heart.
->

Stabilo CarbOthello

Chalk-Pastels


Middle hardness allows for amazing sharpening so that I can get absolutely lovely details. Blendable to an absolute buttery smooth surface, these vibrant colours have filled my heart with a new spark in art. They do smell of old lady, but I believe that is just because they are so fancy.
->

Jaxell Soft

Pastels


Middle range in price, I have to say I have no experience with chalk-pastels and these were a random pick-up. I can't find anything to critique about them other than they make a hell of a mess! Blend wonderfully and go along perfectly in combination with the CarbOthellos.
Erasers are not only for correcting mistakes. Lightening areas without causing residue or adding precise highlights, there is more to them than one might think.
->

Tihoo Electric Eraser 2.3mm


Recommended to me by my significant other, this one is an absolute must for detailed realism. Due to it's electric nature you can not only get off dark graphite you though you would never remove, you can also hold it to some sandpaper and achieve a sharp tip to draw in those finest of highlights
->

Tombow MONO zero 2.3mm


The predecessor to the Tihoo I still use this fine eraser for the same purpose. Slice it with a knife to get that razor sharp edge and also add in precise highlights - or is it add out?
->

Faber-Castell Kneadable Eraser


As the name implies, this beauty can be kneaded into any shape. And if that wasn't enough already, erasing with this will leave no residue. It will pick graphite, pastel, dust and other eraser residue off the page easily and keep the work clean and without smudging.
Equally, if not more important even than what actually makes up the work is the base. Having good paper makes sooo much of a difference and if you have only been using printer paper then please go make yourself happy with some that is worthy of your art.
->

LANA Brisol Drawing Board


Available in A4 and A3 this is my graphite base. I absolutely love this paper. It has barely any texture and the smooth surface therefore allows for an absolutely beautiful detailed finish. Not the easiest to come by but not that expensive and definitely my favourite I have tested so far.
->

Clairefontaine Pastelmat


Sandpaper-like surface takes the pastel like a wonder. Many different colours offer a wide variety of contrast for each individual project. A tad more on the pricy side this paper is definitely worth it for fine art projects with chalk-pastels. Paper size of 30x24cm. I use some masking tape to create a border for the image.
A good sharpener can bring high levels of happiness, this I have learned! And if you think an enema is not meant to be here just hear me out...
->

Keyboard Air Blower


This might look like it goes where the sun don't shine but it's actually not even suitable for that! This one blows air and is originally meant for keyboard cleaning. I used to always blow excess graphite and eraser residue off with my own breath but every artist knows... that comes at a wet risk. This is precise, strong and just perfect for all of the above.
->

Prismacolour Pencil Sharpener


My favourite before the Ikon, this lovely tool will sharpen pencils and coloured pencils beautiful. Can't recommend for pastels though.
-> Dr. Ph. Martin's PEN-WHITE
A lovely watercolour friend suggested this to me for finalizing highlights and I must say: it works wonders. Compared to other materials, this white is actually true white, no hints of yellow when put onto a graphite base. Definitely a charm for any highlighting action.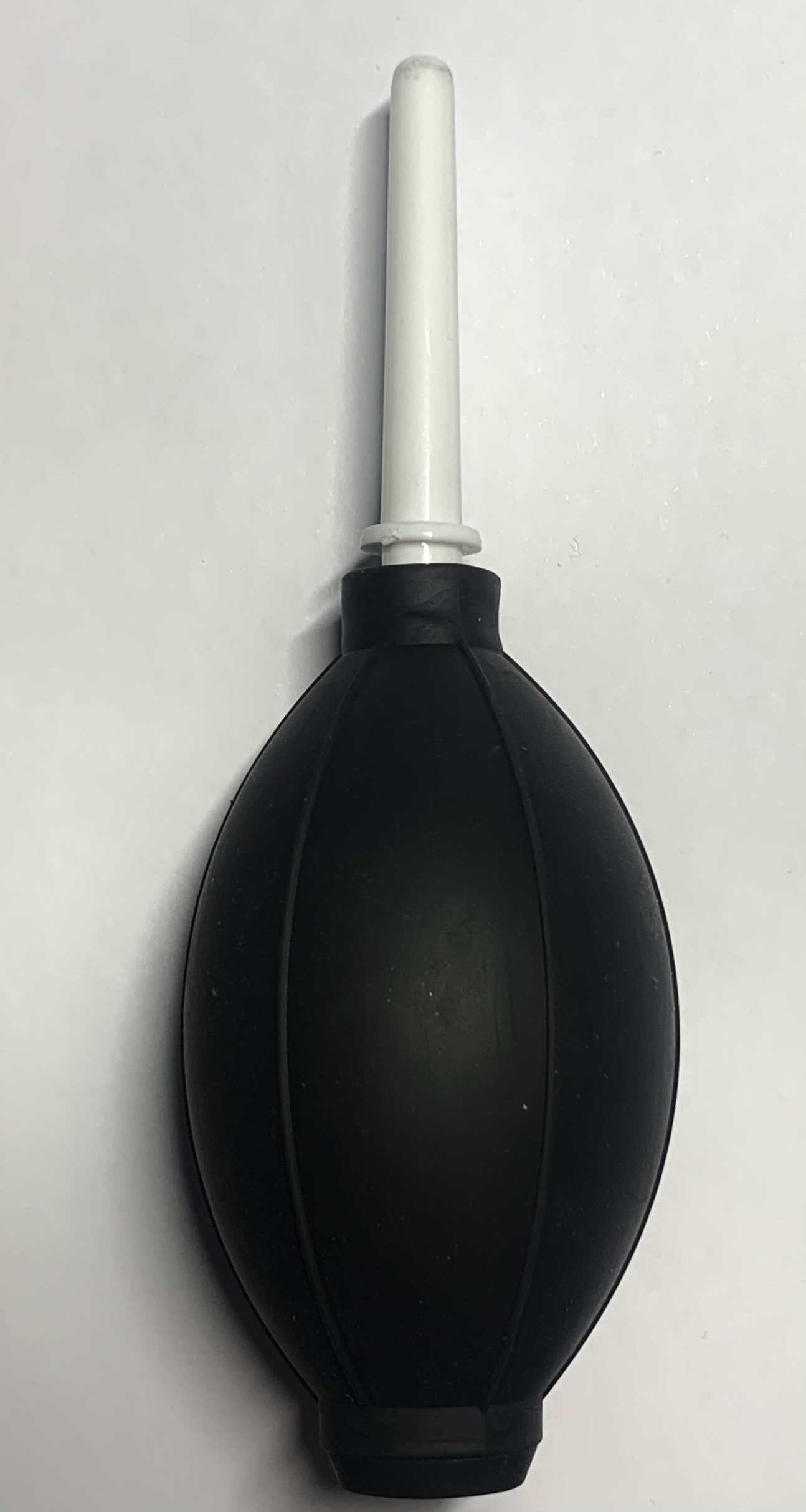 A good fixative won't ruin your art. So trust me when I say ALWAYS test it on your materials before you use it on any finished art.
->

guardi Pastel Fixative


This one is home to the German art shop Boesner. Does a great job but you cannot get it everywhere.
->

Lukas Fixative


An all-round good brand, the only thing to watch out for is whether the one in your shopping basket is for paint or pastel/graphite. So read carefully and keep to the instructions for spraying... believe me.